Turbo Screener
Turbo Screener is a high performance classification machine with flexible screen made of plastic. Inside the cylindrical screen powder is dispersed in Radial direction by rotating blades and the inner surface of screen is hit by powder mass. Thus powder is forcibly passed through the screen, At the same time screen gets pulsation caused by the hitting shock with powder.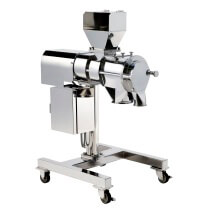 CHARACTERISTICS
Possible to classify powder with very fine screen opening size
As screen pulsation prevents screen from clogging, difficult powder can be classified.


Agglomerates are disintegrated by rotating blades
Soft lumps of agglomeration can be disintegrated by rotating blades during classification process.


Easy dismantling and cleaning
Turbo screener is designed to meet GMP specifications, and it can be dismantled and cleaned with ease in a very short time.


High throughput despite its compact size
As the throughput per unit screen area of Turbo Screener is very high comparing to conventional vibration screen, high capacity can be obtained even with a small machine.


STANDARD SPECIFICATIONS
TYPE
TS100×125
TS125×200
TS250×200
Screen size
(φ×Lmm)
φ100×125L
φ125×200L
φ250×200L
Effective screen area (cm2)
392
785
1,570
Motor (kw)
0.2
0.75
0.75
Rotor speed (r/min)
350~2,000
300~1,800
150~1,000
Approx. weight (kg)
45
70
180
TYPE
TS350×200
TS350×300
TS500×400
Screen size
(φ×Lmm)
φ350×200L
φ350×300L
φ500×400L
Effective screen area (cm2)
2,198
3,298
6,283
Motor (kw)
2.2
2.2
3.7
Rotor speed (r/min)
120~800
120~800
100~550
Approx. weight (kg)
280
350
450